Scientific Instrument Society 25th Anniversary Exhibition
Navigation:
<< First | < Previous | Next > | Last >>
19

Instrument Makers' Receipt of 1777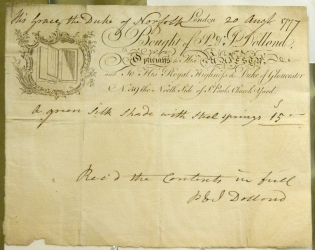 For all the ingenuity and beauty of early instruments, it should not be forgotten that they were the products of businesses. However, there is relatively little evidence for the financial and operational management of workshops before the 19th century. Occasional survivals such as this invoice/receipt give some sense of the mundane paperwork needed to sustain a successful trade.
Peter and John Dollond were best known as the partnership that brought achromatic telescope lenses to the market. Their copperplate engraved letterhead incorporates a set of prisms. These must be the same item as features in a contemporary price list also included in the SIS 25 exhibition: "A Set of small Prisms in a Case, for demonstrating the Principles of the Achromatic Telescope £1 11s 6d".
The sheet has pre-printed text with space to add details of the customer and the purchase. The place is given as "London" and the address emphasises the workshop's success in obtaining official positions: "Bought of P. & J. Dollond / Opticians to His MAJESTY / and To His Royal Highness the Duke of Gloucester / N.59 the North Side of St. Pauls Church Yard."
This particular receipt is made out to "His Grace the Duke of Norfolk" and is dated 20 August 1777. It is not for a telescope (or anything else that appears on their contemporary price list) but is slightly more enigmatic: "A green silk shade with steel springs – 15s" and is endorsed "Rec'd the Contents in full / P & J Dollond".
S.J.
Collection: Stuart Talbot, Germany
Objects lent by Stuart Talbot, Germany:
02. Printed Price List Sheet by P. & J. Dollond, London, c. 1775
51. Two Trade Flyers, by W. & S. Jones, London, c. 1804